UM students develop interactive mobile app
澳大學生開發互動手機程式
11 May 2020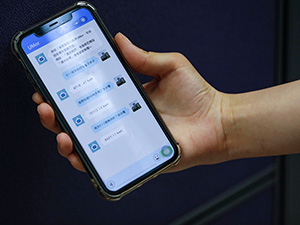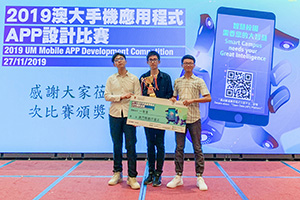 Li Junfei, Chen Guanhua, and Zhang Weijian
李俊飛、陳冠華、張偉健
UMor answers questions about the UM campus
手機程式UMor回答澳大校園資訊
Three students of the University of Macau (UM) recently developed a practical mobile interactive applet called 'UMor' for their teachers and classmates. Users can obtain useful information through the 'chat' function. The applet can also be applied in the tourism industry.
UMor was developed by Chen Guanhua, Li Junfei, and Zhang Weijian, fourth-year students in the Department of Computer and Information Sciences. It won the first prize at the 2019 UM Mobile APP Design Competition. The three students' original goal was to use the professional knowledge they learned at UM in the past four years to develop a practical programme.
In order to ensure a better experience for users of different mobile phone systems, the trio developed Umor as a WeChat applet. The advantage is that users can ask questions about the UM campus, including the arrival time of the school shuttle, the locations of the bus card top-up venues, and the locations of the restaurants on campus, and obtain text answers instantaneously. UMor is also connected to UM's open data application interface platform, and can display power consumption, power consumption trends, and related forecasts of multiple buildings on campus.
In order to design UMor, the students had to learn WXML language for WeChat, which took them a lot of energy and time due to the complexity of server database maintenance.
Chen came up with the idea of UMor. He has been participating in research on natural language processing under the guidance of Prof Wong Fai since last summer. In the process, he gradually realised that 'designing a programme to simulate human behaviour is very interesting.' Li, who is responsible for periodically checking user feedback, says that they are using machine learning algorithms to collect more questions from users.
Recently, the three students tried to optimise the user interface and content of UMor, and they discussed these issues at home via WeChat. They hope that Umor will include more data, such as water consumption data, with more extensive applications beyond UM. They also hope to develop additional functions, such as voice recognition and automatic reply, to enable the programme to 'understand and speak'.
With graduation on the horizon, the three plan to continue to pursue a master's degree in information technology. Li hopes to become an interaction designer. Zheng intends to pursue research on natural language processing. Chen says that in addition to continuing to explore natural language processing techniques, he may also write some programmes about education or translation.
澳門大學三名學生應用專業知識,為老師和同學研發了一個名為"UMor"的實用手機互動小程式,用家可透過"聊天"取得有關的校園資訊。此外,該程式亦有潛力應用於旅遊行業。
UMor由澳大電腦及資訊科學系四年級學生陳冠華、李俊飛和張偉健開發,在2019澳大手機應用程式APP設計比賽獲一等獎。他們最初設計的目標是運用在澳大四年學到的專業知識,為澳大師生開發一款實用的程式。
為了方便不同手機系統的用家,三人將UMor開發為一個微信小程序,其好處在於用家可以提出不同的問題,包括校巴到達時間、巴士卡充值地點和校內餐廳位置等,並即時可查看文字答案。UMor也連接到澳大開放數據應用程式介面平台,並能顯示校內多個建築物的用電量、用電趨勢和相關預計。
為了設計UMor,三人要自學微信平台專用的WXML語言。由於伺服器資料庫維護頗為複雜,為此花了不少精神和時間。但這些自學經歷,提升了他們對一個完整項目的把控能力,也學習到如何改進項目,並且意識到團隊協調的重要性。
UMor的構思源於陳冠華。他去年暑假起在其學系副教授黃輝指導下,參與有關自然語言處理的研究,慢慢覺得"設計出一個程式來模擬人的行為,是很有趣的事。"負責定期在後台檢查用戶回饋的李俊飛表示,他們正在運用機器學習技術收錄更多用戶提出的問題,他認為設計程式是很具有潛力發揮的項目。
三人最近儘量把握時間優化UMor操作界面和內容,不時在家透過微信討論。他們希望UMor將來能包括更多數據,除了用電量,還可以顯示用水量等。使用場景不一定限於澳大,也期望增加語音識別和回覆功能,讓程式"能聽懂、會說話",他們也計劃把這程式的模式應用在旅遊業等行業,包括向旅客提供有關航班、巴士和旅遊景點的資訊。
畢業在即,三人計劃繼續深造關於資訊科技的碩士課程,李俊飛期望成為交互設計師,張偉健則有意從事自然語言處理方面的學術研究。陳冠華就表示,除了繼續探索自然語言處理技術,還可能會寫一些關於教育或翻譯的程式,進一步實踐所學。