UM met with Transport Bureau for Autonomous Driving Vehicles On Campus
澳大與交通事務局商討校園無人駕駛落地事宜
26 Mar 2020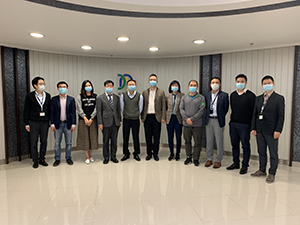 UM delegation made a visit to the Transport Bureau of the Macau SAR Government on 13 March 2020 in order to introduce a research project titled "Research on Key Technologies and Platforms for Collaborative Intelligence-Driven Autonomous Driving Vehicles". Positive response and support were received from the Transport Bureau in the discussion of putting autonomous driving technologies to application on UM campus.
The research project has been listed under the Macao Funding Scheme for Key R&D Projects, one of the largest research projects in Macao's history. In the meeting, Prof. Chengzhong Xu, leader of the smart transport track in UM's State Key Laboratory of Internet of Things for Smart City, Dean of the Faculty of Science and Technology and chair professor of the Department of Computer and Information Science, introduced the background of the research project, UM's research capabilities and members in mainland China from various leading institutions in autonomous vehicles. Prof. Xu also proposed the concrete plan of operation and arrangement of putting autonomous driving technologies to application on UM campus.
Transport Bureau has a high expectation of the research project and promised to have a close communication and cooperation with UM, so as to jointly solve the regulatory issues related to the application of the technologies to the UM campus. The Transport Bureaus also hoped to put the related regulations of autonomous driving in Macao by referring to those around the world. It is suggested to set up a pilot zone on UM campus to simulate the actual sections and scenes of public transportation roads, enabling the autonomous driving technologies to better transition from a demonstration level to an application level.
澳門大學代表團於本月13日拜訪澳門特別行政區交通事務局,介紹澳門大學科研項目"協同智能驅動的無人駕駛關鍵技術與平台",以及探討無人駕駛技術在澳大校園落地事宜,澳大得到交通事務局的正面回應及支持。
此科研項目為澳門科學技術發展基金的人工智慧重點研發專項計劃,為澳門歷史上最大的單體研究項目之一。會議上,澳大智慧城市物聯網國家重點實驗室智慧交通方向的學科帶頭人、科技學院院長、電腦及資訊科學系講座教授須成忠介紹是次科研項目之背景、澳大的科研實力和內地研究團隊在相關領域的領先地位;同時提出無人駕駛技術在澳大校園落地的具體操作和安排。
交通事務局對此科研項目寄予厚望,承諾與澳大方緊密溝通合作,共同解決相關技術落地所涉及的法規問題;藉此機會參考內地和海外有關無人駕駛道路交通法規,冀澳門成為第一個無人駕駛法律規範化的地區;並建議澳大在校園設立試行區,模擬實際公共交通道路複雜路段和場景,使無人駕駛技術更好地從示範層面轉型至應用層面。
會議出席方有交通事務局局長林衍新、車輛及駕駛員事務廳廳長李頴康、車輛處處長陳耀輝、法律輔助處處長歐玉珍、交通規劃處處長蕭日鵬、車輛及駕駛員事務廳高級技術員徐豪;澳大研究服務及知識轉移辦公室主任楊志新、土木及環境工程系主任周萬歡、人工智能研究中心代主任周建濤、以及土木及環境工程系副教授高冠鵬。